Renaissance Wedding
Decorations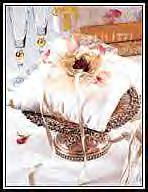 Wedding Charms
Everything You Need
for Your Wedding
The Franklin Mint Quality Collectibles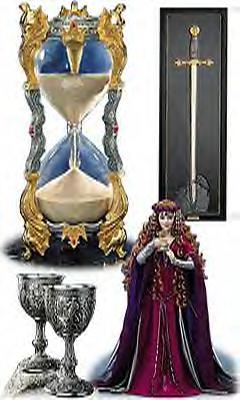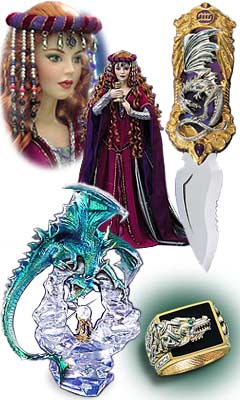 The Franklin Mint Quality Collectibles
Some Ceremony Ideas
Use a parchment scroll that guests can sign in on with a quill pen
Have the music played on a pipe organ, or instrumental Celtic music played with a Dulcimer, Celtic harp, lute, flute etc.
Have the wedding party dress in 14th/15th century costumes.
When the people arrive at the church door, have the men sit on the right side and the women on the left.
Have castle or a knight with a horse as a cake top or on the invitations
A catchy invitation phrase:" Medieval attire admired, but not required."
Since white is not a traditional color for gowns in Renaissance weddings, an example of the type of gown she could wear is a full-length ivory brocade cotehardie which laces up in the back and can be accented with garnets and pearls.
The groom can wear a colored houppelande with a brocade or dress as a medieval huntsman wearing velvet britches, knee-length leather moccasins, a white shirt and a leather tunic.
Use a horse-drawn carriage to escort you to the reception.
Cut the wedding cake with two long swords and toast each other with long-stemmed pewter goblets.
Decorate the buffet table with ivory.
Wine is an excellent color choice to complement a medieval wedding theme. Using lanterns as centerpieces/ keepsakes is also a great idea. Ask your florist about creating short vine garlands (very medieval) sprigged with roses and ivy to weave around the lanterns, or simply arrange small bunches of flowers, wicker baskets of bread, and clay pots of olives and other scrumptious munchies (baskets and clay pots are also very medieval) for a centerpiece that is good to eat as to look at. The quickest, most dramatic way of defining a space, making it more intimate and also transforming it into a medieval hall, is to use long lengths of fabric to make banners.
An unforgetable romantic wedding!


Renaissance Weddings
by Cameo Rose
602-789-1092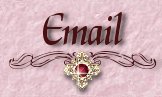 ..